Taipei , Taiwan , May 06, 2008
We recently found there are gray imports of QSTARZ products in Polish market.
Please note Rossa Sp.j. is the official distributor for Polish market. If you are not buying from authorized distributor, you may not have full warranty service.
xxxxxxxxxxxxxxxxxxxxxx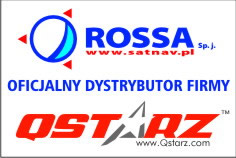 About QSTARZ
QSTARZ INTERNATIONAL Co., Ltd is a professional consumer GPS and Bluetooth products provider. We started our research, development, manufacturing and selling of GPS and Bluetooth product. We do brand distribution worldwide more than 50 countries.
Press Release Contact :
Sean Lin( sean@qstarz.com )
TEL: 02-2792 0061 #308
FAX: 02-2792 0062
6F -2, No.160 Ming Chuan E. Rd. , Sec.6, Taipei , Taiwan