QSTARZ introduces SR-Q2100 Super 10 in 1 Outdoor GPS
Taipei, Taiwan, Mar 22, 2010
Are you a self traveler, a backpacker, or a cycler? Do you have difficulty in reading tons of maps to find the way and thus cost a lot of time? QSTARZ, a global gps leading brand, today launched SR-Q2100 Super 10 in 1 outdoor gps to help you out from all outdoor navigation problems. The portable handheld design with large 1.8" lcd display can let you carry it easily to perform 10 powerful features such as cycle computer, digital compass, route guider, and location finder.
Before the trip, in QPlannerT software you are able to plot the route on Google Map and upload to device for future navigation by the 8-directional digital compass. During the trip, the Location Finder can also guide you to locations you have been before. It is so useful when you need to get back to rally point. After the trip, by the track log function you can even review your trip in QTravelT software and combine gps info with photos and share to your friends. The included QSportsT software further strengthens its variability in terms of sports analysis and health control, making it become the best gear for traveling and any other kind of outdoor activities, whether for Cycling, Running, Walking, Climbing, Skiing, Backpacking, or even for sailing by its high water-resistant level IPX-7. It's definitely the best helper for outdoor activities.
What is 10 in 1?

1.Track Logger

2.Cycle Computer

3.Location Finder

4.Digital Compass

5.Route Guider

6.IPX-7 waterproof

7.E-Temperature

8.QPlanner for Route pre-planning

9.QSports software for health management

10.QTravel software for travel logging and geotagging
Route Guider
Pre-plan your route in QPlanner software and upload to device for navigating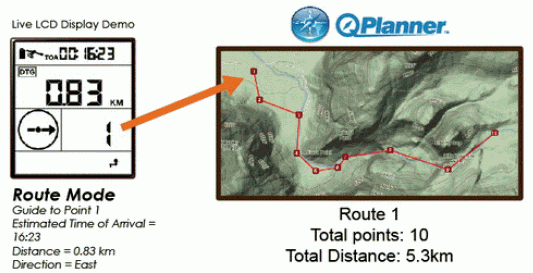 Location Finder
Always find your way by 4 location back (A/B/C/D) waypoints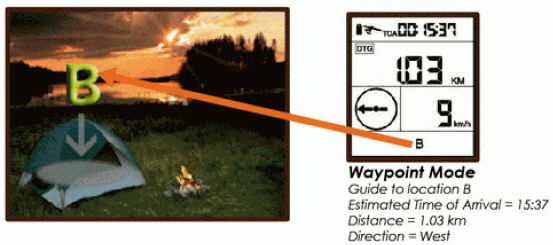 Cycle Computer
On-screen display valuable GPS sports data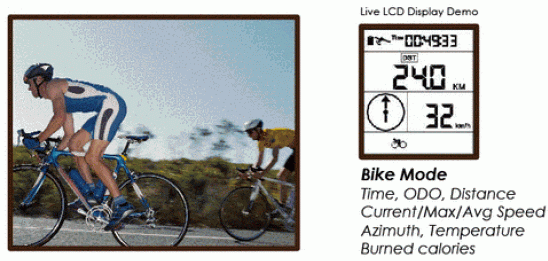 Hardware Features:
-- Large LCD display with backlight support : 38 x 32mm 1.8" for instant GPS information
-- Multi-function handheld GPS with Sport GPS mode / Location Back mode / Route Plan mode
-- Sport GPS mode can display info as Odometer/Distance/Current Speed/Max Speed/Average
Speed/Azimuth/Temperature/Calories/8-directional compass/Total Time/Current time.
-- Location Back mode can mark 4 waypoints (A/B/C/D point) - the estimate straight line distance measuring of the location back points
-- Route Plan mode can support 1 route with 99 turn points, which can advise remaining distance/direction/time to target point
-- Support pre-loading 4 Location Back points and pre-planning 99 turn points of route
-- Track Log up to 42,496 waypoints
-- Smart power saving and support 25 hours usage (22hrs with backlight)
-- Adopts latest GPS chipset with high sensitivity -159dBm
-- Excellent performance - Cold/Warm/Hot start time: 42/38/1 sec. (average)
-- Time zone and distance/speed unit adjustable
-- Waterproof design with IPX-7 class
-- Download data via mini USB interface
-- WAAS and EGNOS support
Triple Software included

Your trusted route plan helper

-- Pre-planning your favorite spot and trip route to guide your way

-- Project management & Database structure

-- Placemark & Line editable

-- Auto manage turn point number in order

-- Display planning line's Elevation Profile view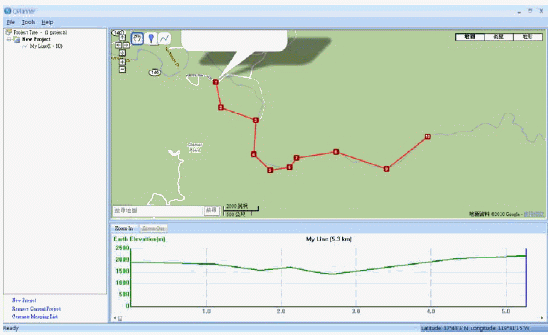 Your personal sports coach
-- Personal data setting for calculation calories
-- Sports Database management
-- For Record and manage your various exercise or sports.
-- Smart training plan and track for personal analysis
-- Share your tracks of sports or travel with friends


Your Best Travel Mate

-- Built-in Google Map and v isualization UI for users to easily manage their travel

-- Friendly design, Q-Wizard can make import/export much easier and faster

-- Flicker and Locr integration.

-- Media files synchronization

-- Export HTML/MHT/GPX/KMZ/KML/CSV files for sharing -> HTML file can playback

For more information about SR-Q2100, please go to http://www.qstarz.com
QSTARZ INTERNATIONAL Co., Ltd is a professional consumer GPS and Bluetooth products provider. We sell our products under QSTARZ brand to more than 50 countries. Through our best quality and excellent performance, we won a lot of awards from worldwide professional media. QSTARZ will continue to introduce more products and lets the GPS technique become part of your joyful life, not only navigation.
Press Release Contact :
Sean Lin( sean@qstarz.com )
TEL: 02-2792 0061 #308
FAX: 02-2792 0062
6F -2,No.160 Ming Chuan E. Rd., Sec.6,Taipei,Taiwan.