Taipei, Taiwan, JUL 27, 2010
QSTARZ, a global GPS leading brand, today is excited to announce the availability of our 10Hz Bluetooth GPS Receiver, BT-Q818XT. The BT-Q818XT supports 10Hz GPS update rate, giving very high resolution position information for high speed sports requirement. 10Hz helps to decrease the annoying display lag time and improves tracking and distance measurements especially if moving on curvy route. As well as the 3-level switch to easily switch to 10Hz high speed more or 1Hz normal speed mode.
BT-Q818XT is now available at the price USD $89 / Euro €79 .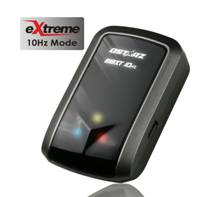 Features:

• 66-Channel Performance for fast acquisition and reacquisition
• Super high sensitivity -165dBm adopting latest MTK II chipset
• Lower power consumption up to 42hrs navigation time
• 10Hz update rate for higher accuracy of the demand
• Less than 15-Sec. AGPS fix support : download almanac data to realize faster TTFF and positioning under warm start
• G-Mouse + Bluetooth in one: wired and wireless GPS receiver
• 3-level switch(10Hz-1Hz-Off) for easy operation
• Fast Position Fix ,Cold start 35s, Warm start 33s,Hot start 1s
• Personal/Portable Navigation (PDA, Smartphone, PC, etc.)
• DGPS(WAAS+EGNOS+MSAS) support
• Auto On-Off function for smart power control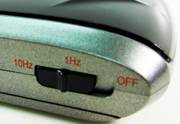 Who needs 10Hz*:
• Circuit racing.
• Aviation.
• Boating.
• Skiing
• GPS data analysis.
* Please check your software is 10Hz compatible before using BT-Q818XT 10Hz function.
Product Specification: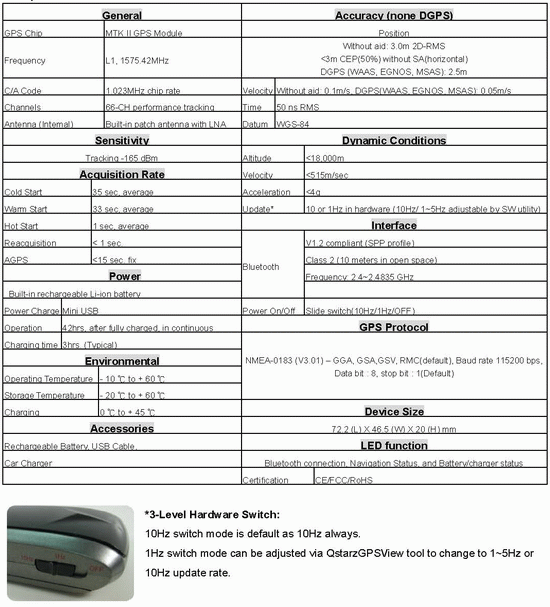 QSTARZ INTERNATIONAL Co., Ltd is a professional consumer GPS and Bluetooth products provider. We sell our products under QSTARZ brand to more than 50 countries. Through our best quality and excellent performance, we won a lot of awards from worldwide professional media. QSTARZ will continue to introduce more products and lets the GPS technique become part of your joyful life, not only navigation.