Taipei, Taiwan, OCT 21, 2010
The BT-Q1000Ex, the GPS Lap Timer, is now packed with QRacing software, which allows you to measure your 0-60, 0-100, 1/4 mile 1/2 mile and more. In Circuit racing, you could analysis your track data and easy to know which part you will be able to improve for next racing, and even compare the others track.
Designed for high efficiency at every speed, BT-Q1000eX is an extraordinary GPS Lap Timer with eXtreme 5Hz log speed which enables Q1000eX to log up to 5 times per second providing the most accurate measurement of track, speed, and distance. Such characteristic makes Q1000eX very suitable for every kind of extreme sports activity, especially for super motor, road course motorcycles, oval cars, or road course autos.
Deliveries of the BT-Q1000eX with QRacing start from November at the price of USD $189.9
For more information about the BT-Q1000eX with QRacing, please go to
http://www.qstarz.com/Products/GPS%20Products/BT-Q1000EXQR-F.htm
QRacing software Features:

• Single lap analysis.
• Multi lap comparison.
• Database structure.
• Racing plot chart.
• Multi beacon.
• Speed View
• Replay view of racing track
Screen Shot Preview: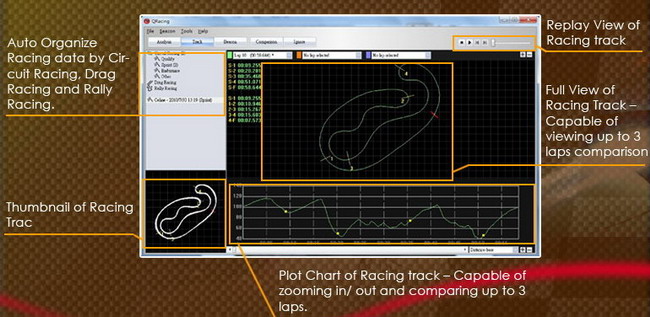 View Analysis Racing Data by Tables:
QRacing is now only compatible for BT-Q1000eX by the price of USD $69.99 . And soon it will be available for other QSTARZ products.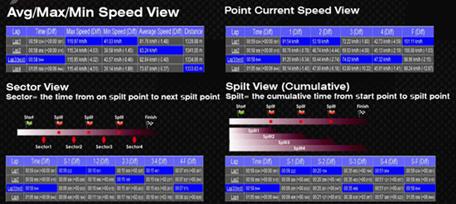 QSTARZ INTERNATIONAL Co., Ltd is a professional consumer GPS and Bluetooth products provider. We sell our products under QSTARZ brand to more than 50 countries. Through our best quality and excellent performance, we won a lot of awards from worldwide professional media. QSTARZ will continue to introduce more products and lets the GPS technique become part of your joyful life, not only navigation.