Best extreme racing partner - Qracing V.2
Taipei, Taiwan, MAR 08, 2011
The latest version of QRacing is released today. QSTARZ is so excited about this release which will bring amazing experience to racers What is the special features of QRacing V.2?  
Video display function
QSTARZ added the function of video display into QRacing V.2. You can not only read the analysis, but also review the track through video with the display of speed, time and distance. Place several cameras to record your race from different angles. It makes more fun and increases the analysis information.
New benefits for analysis
First of all, QRacing V.2 provides G-Value display. This special function enables you to realize G-Value of your car in different driving condition. Let you know how to improve and control your race. Secondly, QRacing V.2 added the display of Best theoretical time and Best rolling lap which can be useful basis of analysis. Next, QRacing V.2 support adding break and accelerate point on the track to read clearly.
QRacing V.2 does not just have these few new functions. QRacing V.2 owns more considerate functions such as creating beacon by input the longitude and latitude. This is the best function to rally racing. QRacing V.2 also provides the function of track display by Google Earth program. Words alone are not enough to describe QRacing V.2. Upgrade QRacing and explore the stunning function right now!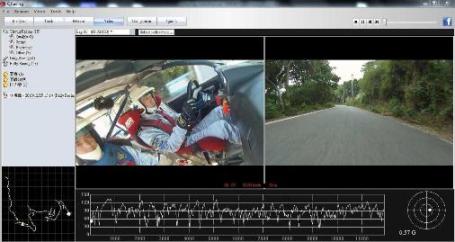 An sample to show the video display
For more information about QRacing V.2, please go to QRacing V2.0 web page.
QSTARZ INTERNATIONAL Co., Ltd is a professional consumer GPS and Bluetooth products provider. We sell our products under QSTARZ brand to more than 50 countries. Through our best quality and excellent performance, we won a lot of awards from worldwide professional media. QSTARZ will continue to introduce more products and lets the GPS technique become part of your joyful life, not only navigation.
Press Release Contact :
Blaire Hou (Blaire_Hou@qstarz.com)
TEL: 02-2792 0061 #320
FAX: 02-2792 0062
6F -2,No.160 Ming Chuan E. Rd., Sec.6,Taipei,Taiwan.