QSTARZ sponsored Simon Tibbett with huge passion for racing
Taipei, Taiwan, APR 22, 2011
QSTARZ is pleased to sponsor Simon Tibbett who is with Tibbett Racing in Athens. Simon Tibbett is a young twenty three old who has been involved almost all of his life.  His team will be racing a Chrysler Neon ACR in SCCA and NASA competition on the east coast including sprint and endurance events. The comment on BT-Q1000eX from Simon Tibbett is shown as below:
The BT-Q1000eX is the best option available for an affordable and extremely accurate GPS lap timing device with 5Hz log speed. It's extremely easy to use, very accurate, and small enough to be used in numerous types of events. It's great to just plug the unit into our computer and have immediate data to look at through QRacing software, everything is just so easy to use.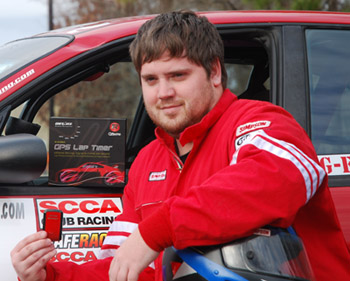 For more information: http://www.qstarz.com/experience2.php?id=27
QSTARZ INTERNATIONAL Co., Ltd is a professional consumer GPS and Bluetooth products provider. We sell our products under QSTARZ brand to more than 50 countries. Through our best quality and excellent performance, we won a lot of awards from worldwide professional media. QSTARZ will continue to introduce more products and lets the GPS technique become part of your joyful life, not only navigation.
Press Release Contact :
Blaire Hou (Blaire_Hou@qstarz.com)
TEL: 02-2792 0061 #320
FAX: 02-2792 0062
6F -2,No.160 Ming Chuan E. Rd., Sec.6,Taipei,Taiwan.