Taipei, Taiwan, JUL 19, 2011
With the increase of fuel price, corporations gradually have heavy pressure on the fuel cost. You may probably know that aggressive quick starts & stops increases fuel by as much as 39%. According to some researches, the most efficient way to reduce fuel cost is to improve drivers' driving habits. QSTARZ, a leading GPS solution provider, introduces a new GPS technology - GPS ECO-System. GPS ECO-System is a GPS-based ECO-Driving Recorder to help drivers reduce monthly fuel cost, car maintenance fee, car accident ratio, and CO2 emission.
First for the appearance of GPS ECO-System, it has user-friendly design and compact size with rugged and durable materials. And it is very easy to install and operate the system. With the high accuracy of GPS technology and G-sensor  integrated, it can promise to provide faster positioning fix and tracking.
How is the function of GPS ECO-System? Here is briefly introduction. By GPS ECO-System's ECO Beep Alert, this system can prompt drivers to improve driving behavior immediately while driving on the road. So when you have the one of following driving behavior – Idle, Over Speed, Rapid acceleration and Hard braking, ECO Beep Alert will prompt you interactively with beeping sound. Through diminishing the occurring of Beeping alarm, this system with Patent applied could help you decrease your fuel cost up to 30%, raise your fuel efficiency, and lead you a safer driving.
Integrated QVehicle Software is a vehicle management software with database structure to analyze drivers' driving behavior and fuel efficiency by a systematical way. It can provide various analyses of ratio such as Idle, Over-Speed, Non-Efficiency Speed, Rapid Acceleration, Hard Braking and Stability to illustrate driving behavior by Google map or statistic reports. Corporations can analyze employees' driving behavior by options of date interval, person, vehicle or group. And view and audit the employees' performance by Star Rating and Staff Rating. For Star Rating below 4 stars, it means poor fuel efficiency. And through employees' Staff Rating, corporations have another useful performance-auditing reference. This could benefit corporations to manage the fleet easily and effectively.
By adopting this Patent Pending ECO-system, corporate owners can upgrade business ROI and improve operating efficiency in a significant progress. If you have high demand on cutting down corporation fuel cost, or fuel is the major operating cost of your business, Qstarz CR-Q1100V GPS ECO-System definitely will be your best solution with high performance.
CR-Q1100V GPS ECO-System is now available at the price of US$289 / EURO €229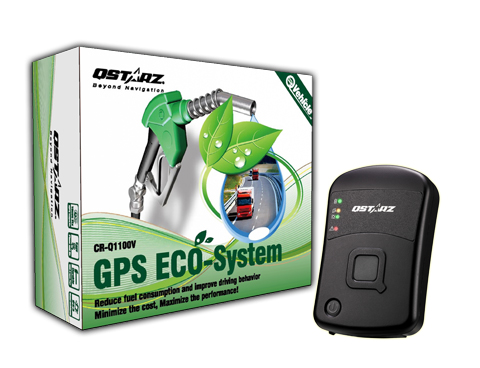 For more information about GPS ECO-System, please go to http://www.qstarz.com

QSTARZ INTERNATIONAL Co., Ltd is a professional consumer GPS and Bluetooth products provider. We sell our products under QSTARZ brand to more than 50 countries. Through our best quality and excellent performance, we won a lot of awards from worldwide professional media. QSTARZ will continue to introduce more products and lets the GPS technique become part of your joyful life, not only navigation.