Taipei, Taiwan, DEC.20, 2011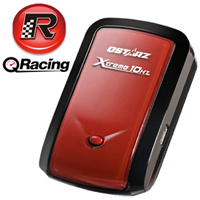 BT-Q1000eX 10Hz is an extraordinary GPS Lap Timer with eXtreme 10Hz log speed which enables Q1000eX 10Hz to log up to 10 times per second providing the most accurate measurement of track, speed, and distance. Such characteristic makes Q1000eX 10Hz very suitable for every kind of extreme sports activity, especially for super moto, road course motorcycles, oval cars, or road course autos. And drivers can also improve their lap time by valuable driving information.

Q1000eX 10Hz GPS lap timer is simple and easy to use. It's stand-alone without the help of other accessories like transmitter are unnecessary. It adopts the GPS technology to log your race and later you can upload your driving information to PC. The included QRacing Lap Timing Analysis software can excellently analyze diversified Racing data-Circuit Racing, Drag Racing & Rally Racing. Get the best single lap and compare up to 3 lap data by graph chart and real-time play view will never this easier!


3 Software package

QRacing™
Record and manage your racing track as database structure
Analyze and plot your racing in graph statistics
Allow to add multiple beacons
Up to 3 lap comparison from different lap or run
Lap playback and Lap color annotation
Draw self-made Racing course
Support up to 9 videos' integration and playback
G-value display and G-value distribution status
Track view integrating with Brake line and Track rotatable
QSports™
Personal data setting for calculation calories
Sports Database management
For Record and manage your various exercise or sports.
Smart training plan and track for personal analysis
Share your tracks of sports or travel with friends
QTravel™
Built-in Google Map and visualization UI for users to easily manage their travel
Friendly design, Q-Wizard can make import/export much easier and faster
Flicker and Locr integration.
Media files synchronization
Export HTML/MHT/GPX/KMZ/KML/CSV files for sharing -> HTML file can playback.
For more information about GPS Lap Timer Color, please go to http://www.qstarz.com
QSTARZ INTERNATIONAL Co., Ltd is a professional consumer GPS and Bluetooth products provider. We sell our products under QSTARZ brand to more than 50 countries. Through our best quality and excellent performance, we won a lot of awards from worldwide professional media. QSTARZ will continue to introduce more products and lets the GPS technique become part of your joyful life, not only navigation.