Qstarz Releases LT-Q6000 upgraded firmware v1.01.00 with Auto start and more new features!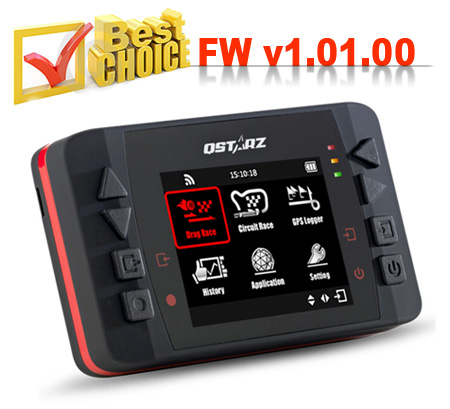 Taipei Taiwan, Aug. 3rd, 2012
Qstarz International Co., Ltd announced today the release of a new upgraded firmware v1.01.00 for LT-Q6000. This latest firmware v1.01.00, downloadable from Qstarz website, specially strengthen the Auto Start function for Race mode and system will smartly detect and go for next run without touching any button. For example, racers may drive or ride by setting drag race 0~100km/h for multiple runs and Q6000 will lap time your each run automatically. The new firmware also enhances the real-time racing display by adding comparison option (Best lap/Last lap) and adding additional field options for comprehensive information to racers.
To fulfill the demand of diversified race circuit, we also newly extend the circuit track to support either closed track or open track. Racers will be able to select track type according to their circuit track layout.
For more and complete features of new firmware, please view the Q6000 FW v1.01.00 introduction video here.
http://www.qstarz.com/Products/GPS%20Products/LT-Q6000%20VideoEN.html

Major features of Q6000 new Firmware v1.01.00
---
| | |
| --- | --- |
| | |
| Auto-Start function for Race mode | Enhance Compare option for Race mode |
| | |
| | |
| Add "Create Open Track " on Circuit Race | Add to race on "Open Track" Circuit |
| | |
| | |
| Add "Field Option" on Racing Display | Log 10Hz Frequency for all Race mode |
| | |
Download here the Q6000 upgraded firmware v1.01.00:
http://www.qstarz.com/download/QST6000_V1.01.00_B1.01.01.zip
How to upgrade the Q6000 firmware:
http://www.qstarz.com/download/LT-Q6000_Firmware_update_instruction.pdf
For more information about GPS Lap Timer Color, please go to http://www.qstarz.com
ABOUT QSTARZ
QSTARZ INTERNATIONAL Co., Ltd is a professional consumer GPS and Bluetooth products provider. We sell our products under QSTARZ brand to more than 50 countries. Through our best quality and excellent performance, we won a lot of awards from worldwide professional media. QSTARZ will continue to introduce more products and lets the GPS technique become part of your joyful life, not only navigation.