Fuel-Saving Solution for Corporation
CR-Q1100V is a GPS-based ECO-Driving Recorder specially for Corporation to reduce monthly fuel cost, car maintenance fee, car accident ratio, or CO2 emission, etc. Integrated QVehicle Software can provide various ratio such as Idle, Over-Speed, Non-Efficient Speed, Rapid Acceleration, Hard Braking or Stability to diagnose driving behavior by options of person, vehicle or group. By adopting this system, Corporate owners can upgrade business ROI and improve operating efficiency in a significant progress.
There is No monthly Fee and No Server for maintenance. If you have high demand on cutting down corporation Fuel Cost or Fuel is the major operating cost of your business, Qstarz CR-Q1100V GPS ECO System definitely will be your best solution with high-efficient but cost-effective performance.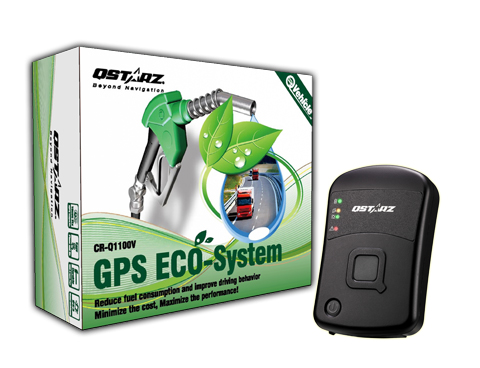 • The benefit of GPS ECO-System: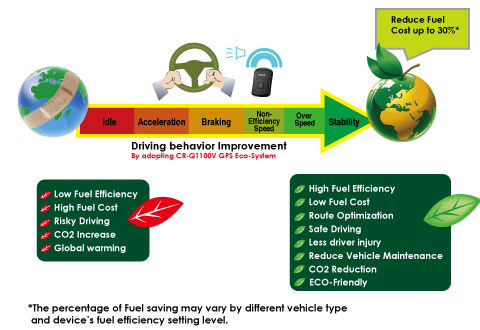 • Why Corporation/Fleet Managers require GPS ECO-System:
1. Low Initial System Cost
-No monthly fee, No installation fee, and No contract.

2. Strengthen Auditing Management
-Provide driving data, route and improve driving efficiency

3. Reduce Operating Cost
-Reduce Fuel cost and improve Operating efficiency

4. Fulfill Global ECO-friendly trend
-Safer driving , Fuel economy and Protect the earth
• Who need GPS ECO-System:
The application of GPS ECO-System is almost adoptable for any kind of business as long as you care fuel-efficient driving or fuel reduction.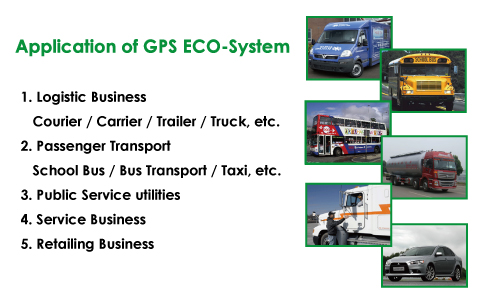 Just 3 steps! Help you reduce fuel cost effectively!
How GPS ECO-System works: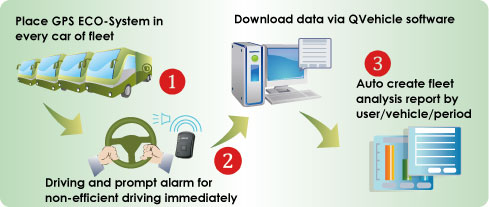 Step 1: Place GPS ECO-System in every car of fleet
Easily Install CR-Q1100V with USB cable and USB car adaptor into cigarette lighter of vehicle.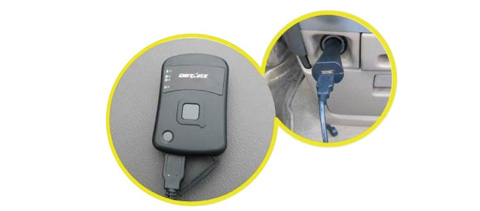 Step 2: In-Vehicle ECO Beep Alert to immediately prevent inefficient driving behavior.
When drivers perform the following driving behavior (Idle, Over Speed, Rapid Acceleration and Hard Braking), CR-Q1100V GPS ECO-System will immediately prompt drivers by Beep Alarm. The less Beep Alarm prompts, the more fuel being preserved, and the more money being saved.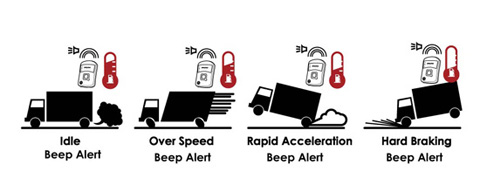 Step 3: Get Driving Behavior ECO Analysis by QVehicle

QVehicle™–Your Best Fuel-saving Aid
•Analyze Driving Behavior and Fuel Efficiency with database structure
•Graph view and Plot chart with Google Map integration
•Staff Rating and individual user's driving summary
•Vehicle statistic report with fuel consumption percentage
•Sorting records easily by day/week/month/season/user/vehicle
•Support export tracks and reports
•Support Data Backup, Restore and Archive
Analysis 1: Star Rating of individual performance
QVehicle gives a summary of individual driving behavior (Idle, Non-efficiency speed, Acceleration, Braking, Over Speed and Stability) by Star Rating and Fuel consumption in percentage & mileage. Best Star rating is 6 stars, and below 4 stars means poor fuel efficiency.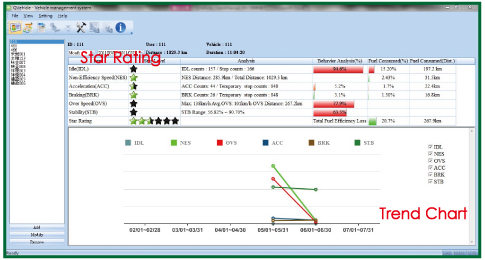 Analysis 2: Staff Rating of all users' driving behavior
You can compare all driver performance by Staff Rating. It shows the list of all users' rating with Driving behavior percentage and fuel consumption percentage by weekly, monthly or seasonal basis.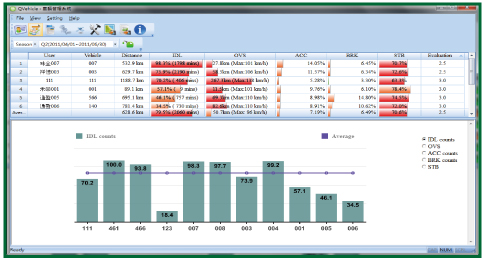 Analysis 3: Report view
• Vehicle Report View
Vehicle report View shows the trip data and summary by filter options with Time interval (day, week, month or season), User and Vehicle. Given the fleet manager flexible options to review the vehicle report.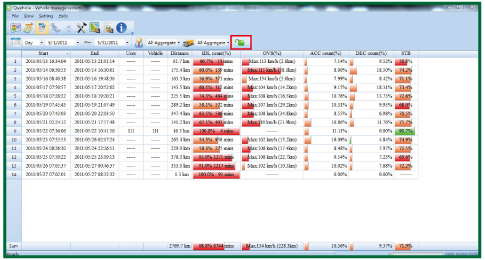 Analysis 4: Detail view
Six kinds of driving behavior analysis guide you to exactly find out where and when to cause inefficient driving.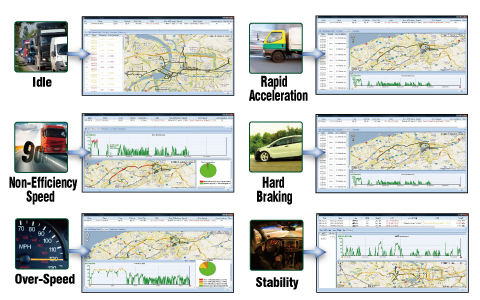 For the detail QVehicle software introduction, please click QVehicle here.
Hardware feature
• Adopt MTK II latest GPS chip with high sensitivity -165dBm and 66-Channel tracking
• GPS driving data recorder to log up to 400,000 records (*1)
• Easy Operation – Working Green light On then Go; Non-Working Red light On then not to Go!
• ECO Beep Alarm to immediately alert behavior of Idle, Over-Speed, Rapid Acceleration or Hard Braking
• 4 LED indication (Power, Memory, Working, Non-Working) to notice device status
• Rugged design with IPX-3 Water resistance
• Integrated G-Sensor to detect & analyze magnitude and direction of proper acceleration
• Specially built-in Surge Protector to protect device from voltage spikes
• 2 buttons (Power and POI) included
• Recharging and downloading data via USB A type connector
• Less than 15-Sec. AGPS Instant fix support for faster TTFF and positioning under warm start
• DGPS(WAAS+EGNOS+MSAS) support
• Update Rate up to 5Hz (default at 1Hz for receiving data only)
*1 The waypoints would be decreased when the more options of Log Format are selected