CR-Q1100P GPS Tracking Recorder is designed specifically for commercial customers. Its features are to have durability and user-friendly designs as well as appropriate software to meet companies' commercial needs. Companies can use CR-Q1100P to perform your business or research well. The features of longest battery life and POI management are useful for commercial application such as phone directories delivery, promotional product delivery or GIS Data collection. With its reliable and durable design, CR-Q1100P indeed makes your business and research applications more effectively and efficiently. Start using it to advance your business and research right now!
High sensitivity and Rugged GPS Tracking Recorder: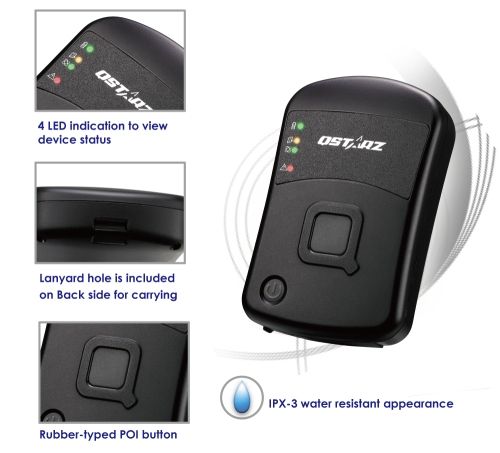 How it benefits: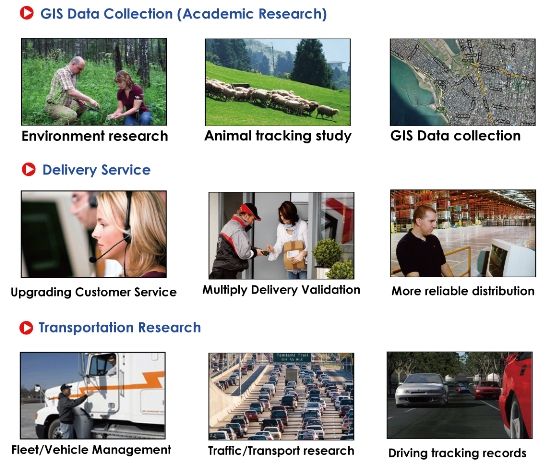 How it works: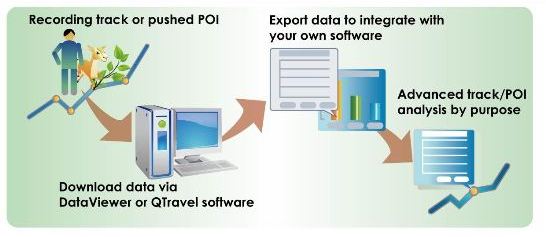 Flexible Track/POI Management Software Integration:
With database structure, the software allows you to manage your history track data easily and you can record your tracks and show on Google Earth/Google Map. The software also provide analysis by excel table and graph to meet your commercial needs.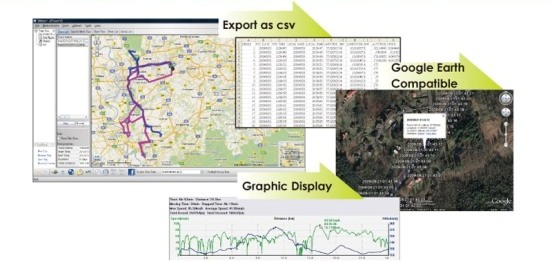 You can use POI management function to mark a specific point location. It is useful for commercial POI collections or for employees' work efficiency management and control. (POI is shown by red point on the map below) POI management and tracks record enable your business or research easier.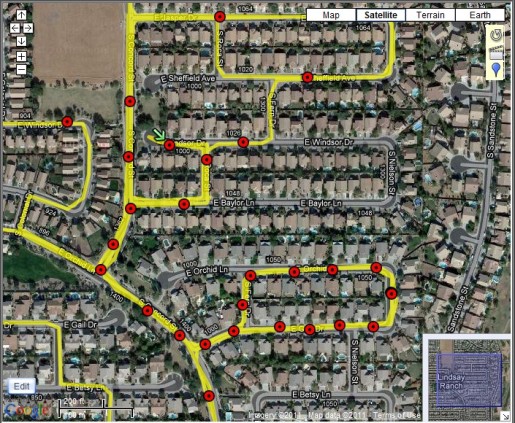 Hardware:
Adopt MTK II latest chipset with high sensitivity -165dBm and
66-Channel tracking.
Ultra lower power consumption up to 40hrs operation
Stand-Alone GPS Data recorder to log up to 400,000 records (*1)
Rugged design with IPX-3 Water resistance
Lanyard hole design for easy-to-carry
Built in Two Buttons (POI & Power button)
4 LED indication (Power, Memory, Working, Non-Working) to view device status.
Beeper function to notice some status of device
Built in Motion Sensor for Power Saving and Waypoint saving
DGPS(WAAS+EGNOS+MSAS) support
Recharging/downloading data via USB A type connector which is better for harsh use
Update Rate up to 5Hz (default at 1Hz for receiving data only)
*1 The waypoints would be decreased when the more options of Log Format are selected.
Software:

DataViewer utility

DataViewer detailed records and integrate whole information to help you complete your business and research targets. DataViewer also provides POI management function and raw log data to make you analyze efficiently by your approaches according to your needs.
1. Support read log data from device (automatically recognize com port, or manually specify comport)

2. Support clear log on device

3.Support device configuration

a. Log criteria (speed, time, distance)
b. Log format (Valid, DSTA, DAGE, PDOP, HDOP, VDOP, NSAT, SID, Elevation, Azimuth, SNR, RCR, etc.)
c. Full/Stop mode
d. evice memory usage
e. Device name
f. Beeper Turn On/Off, POI Turn On/Off

4. Support Save and export files (Format: nmea, csv, kml, gpx & bin file)
QTravel - Track Data Management software (Optional)
Database structure which can collect and manage all track data easily
With built-in Google Map, Multi-language support, and Visualization UI
Support GeoTagging function for digital photo and generate KMZ file easily
QWizard interface for Utility to easily manage importing and exporting tracks
QTray Plug-and-Play function to auto-activate QTravel software
Support Track Editing, Track split/merge, and Track Playback with photo/video
Output your track records to GPX / PLT / CSV / NMEA / Google Earth file format.
Support Raw Data Manager for selecting necessary GPS parameter to record, view, and output
Support uploading geo-photo to Facebook/flickr/locr community website directly
Support GPS device configuration