Reliable, Stable, Accurate, and Precise. All you can count on the BL-1000ST with advanced BLE integration.
BL-1000ST is Qstarz Cross-Generation Bluetooth GPS Travel Recorder. To record your diversified travel, tracks, journey no matter how long or how far it takes, you can rely on BL-1000ST to reach all the needs. GNSS Support and wirelessly adds GPS+GLONASS to iPad, iPhone, and other Bluetooth enabled smartphones, tablets and laptops. Go on the journey, and the great companion BL-1000ST will confidently record your years of beautiful moment.
‧ Portable Travel Recorder to log your trip and point of interest
‧ Extended large memory capacity excellent for data collection
‧ Bluetooth 4.0 BLE connection to iPhone, iPad, or Android devices
‧ Long battery life and high sensitivity to suit diversified research
‧ GPS+GLONASS engine and Acceleration sensor enabled for optimizing log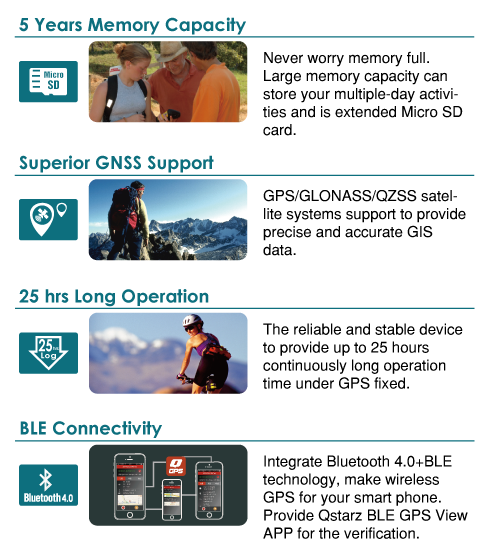 Features:
‧ Bluetooth 4.0 GNSS(GPS+GLONASS+QZSS) Travel Recorder
‧ 1Hz log to log one waypoint every 5 seconds as default
‧ Bluetooth interface to instantly add GPS to iPhone, iPad and Android devices*1
‧ Ultra long operation with 25 hours battery life
‧ Micro SD card logging and no worry multiple-day track logs
‧ Integrate Acceleration sensor to smartly manage power saving and movement detection
‧ 5 LEDs and Beeper integration to indicate device status
‧ Support POI button to memorize your point of interest immediately
‧ Micro USB port for Charging, data downloading and Firmware updating
‧ AGPS and SBAS (WAAS, EGNOS, MSAS, GAGAN) support
‧ Free Qstarz BLE GPS View Tool App from App Store or Google Play
‧ Bundled with QTravel photo-geotag analysis software (PC Windows)
‧ Bundled with DataViewer Raw Track Data managing software (PC Windows)
‧ Support HoudahGeo geo-tagging & HoudahGPS software for Mac*2


*1 Transmitting Qstarz specific protocol only
*2 HoudahGeo Mac software is paid software from Houdah and purchase if needed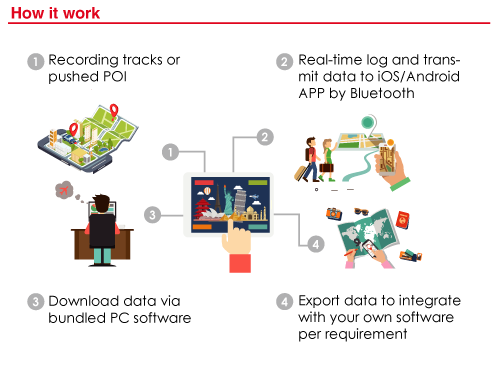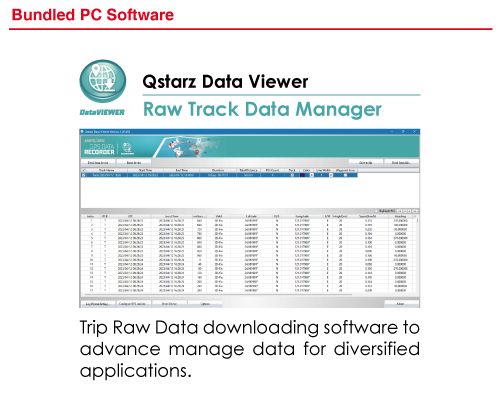 Qstarz BLE GPS View APP Available on App Store and Google Play
BLE connection to iDevices/Android devices
Available for iOS & Android OS


The Qstarz BLE GPS View app is a simple utility application for connecting with the Qstarz BLE GPS Recorder/Receiver from Qstarz International Co., Ltd.
The main features are as below:


‧Support to connect with Qstarz BLE GPS Devices
‧Show the GNSS status information (GPS/GLONASS)
‧ Show Satellite distribution and GNSS signal strength chart
‧Support recording GNSS data after GNSS position fixed
‧Save GPS records and export as CSV files
‧Show the battery level of the device


Designed by Yanalya | Freepik, Bearfotos | Freepik, Freepik | Freepik