QTravel
--Your Best Travel Mate - Travel Data Management Software
QTravel is photo geotagging software for your computer that works with Qstarz Travel Recorder hardware devices. With database structure, QTravel allows you to manage your history travel data easily and you can record your travel tracks and show on Google Earth/Google Map with photos on exact locations to bring back your live trip memory. It's also easy for users to upload geotagged photos to flickr, locr, other photo sharing website/blog, or even share to friends.
Manage History Travel Data Easily
Data management has always been an issue when your data is getting more and more. QTravel utilizes the database technology to manage your massive travel data. Effectively organize your history travel data and let you escape from the nightmare of the data chaos.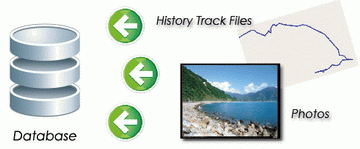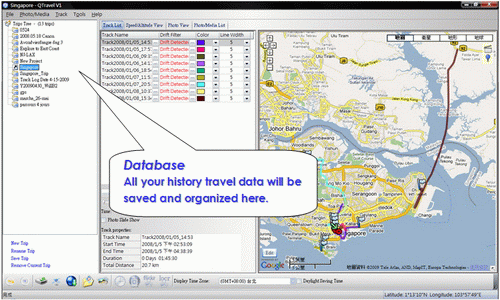 Record travel tracks you ever go
Do you remember what scenic spots you have been during honeymoon trip? Do you want to recall every pace on your trail to Mountain Everest? QTravel can help to store your precious memory of travels with more info such as time, distance, moving speed, total speed, and altitude. Tracks can be editable and playback according to your requirement.
More detail

Make Geotagging photos so Easy
If you like taking photos/videos when traveling, QTravel can help to geotag your photos/videos and combine together with your tracks. Just a few simple steps, you can see the track on Google Earth with photo on exact locations. You will never forget where you took the pictures. Time zone is adjustable so no worries that you go aboard different country but you forget adjusting camera local time.

Share your travel tracks and photos on internet
Want to let your friend know which spots are worth to visit during your Italian trip? Want to let your family know where is this restaurant? QTravel support wide range format of track exporting such as HTML, KML, GPX, CSV or NMEA files. Just simply email a HTML file to your friend then the track with photos can be shared immediately. Besides, it also integrates locr, and flickr on-line sharing web community for easy operation of uploading photos.

Multi-language User interface
QTravel is user-friendly software with more than ten countries' multi-language interface. Tools setting are also selective such as Distance unit, Coordination, or Separate track setting, etc.

Experience QTravel by free trial and sample files to see what QTravel is capable of.
Download Free Trial Here: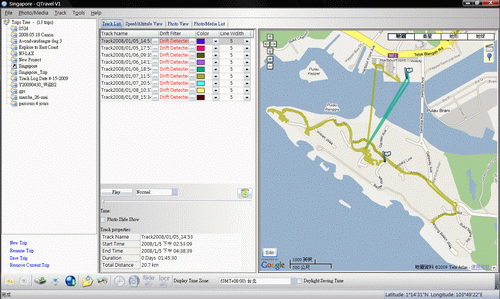 *The free trial is for testing sample files only. The full functions will be activated by related Qstarz Travel Recorder/Sports Recorder Series.
Download Sample Files Here: